Chiefs confident they will punish Roethlisberger
The Pittsburgh Steelers will travel to Kansas City to take on the Chiefs in an AFC Divisional Battle that will be one of the best tickets to have this post season.
The Chiefs main plan is to pressure Roethlisberger hard the entire game.  The Chiefs also hope that Justin Houston will be back to terrorize.
"We have a lot of respect for Justin Houston," Steelers Coach Mike Tomlin said, "but we also have a lot for Dee Ford and Tamba Hali. Those edge players for them, regardless of who's in the game, are a challenge for us."

"But the ability to make that quarterback move in the pocket has been huge for us," Chiefs Coach Andy Reid argued. "They feel that heat, and they're either moving backwards or sideways and they can't get their feet set, so that can be as an important as a sack. But the important thing is you're getting more pressure, and you don't let them throw from a set platform."
The Steelers beat the Miami Dolphins 30-12 in the Wild Card playoff round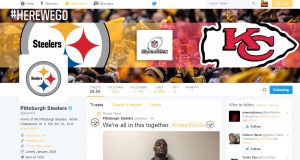 last week but QB Ben Roethlisberger came out of the game with an ankle injury that will surely hamper his movements on the field.  As of Wednesday, he was still suffering soreness but coach Tomlin still has full confidence in he QB.
"We'll watch him closely as we push forward to the game, but not anticipating that limiting him," Tomlin said. "I don't imagine his foot circumstance changing our approach [to preparation]."
Get your tickets today and help cheer on your Pittsburgh Steelers!